I Am Sober is a free app that helps you get some control back in your life.
Robert Downey Jr On Addiction
Last updated: December 10, 2021
"Because Robert's never known what it means to be happy, it's not such a sore spot with him. He has no frame of reference. He's done the best that he can and recognizes that something is missing, but he can't necessarily put his finger on it… I think that it's also the pain that he is in and it's been with him for a long time. I don't think he uses drugs so much to feel anything as to not feel anything, to block out all the emotions—just so he can function." –Allyson Downey
For ten years, Robert Downey Jr has been in the spotlight, known to millions as the iconic Iron Man (aka Tony Stark) leading the world's most lucrative movie franchise in history (Marvel Cinematic Universe).
And yet, while transforming a (formerly) B-list comic book character of a (formerly) bankrupt business into box office gold is impressive, to see a man rise from the ashes of substance abuse, legal troubles, poverty and a broken home is nothing short of miraculous.
Lifelong Battle with Addiction
Robert Downey Jr's battle with addiction began at an early age: six. His father, Robert Downey Sr, was a prolific filmmaker and simultaneously started his son's film career and drug addiction. Robert Downey Sr gave his son a small role in Pound at the age of five – Downey Jr played a sick puppy; then, at the age of six, Downey Sr. gave his son marijuana to try, or as his son would later put it,
"[T]here was always a lot of pot and coke around… When my dad and I would do drugs together, it was like him trying to express his love for me in the only way he knew how."
By age eight he was addicted, worsening the older he got. Robert Downey Jr said he'd,
"spend every night out getting drunk [and] making a thousand phone calls in pursuit of drugs."
His father gave him (Downey Jr) the joint as a joke and recognized it immediately as a terrible and stupid mistake. Before Downey became a teenager, he would experiment further with weed, alcohol and narcotics.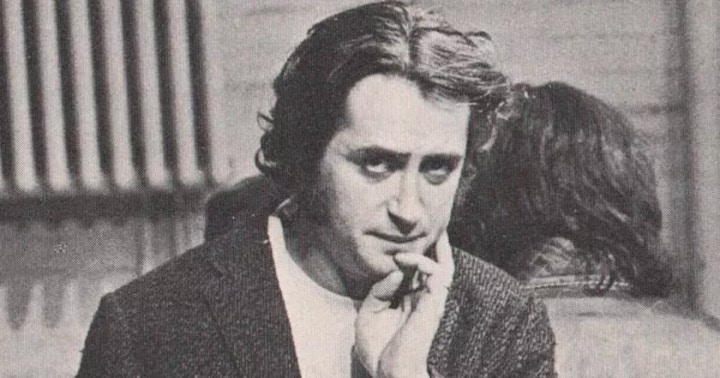 When Downey's parents divorced in 1978, Downey moved with his father from New York to California. Downey dropped out of Santa Monica High School at 17 and moved back to New York to pursue acting. He landed a few theater roles and served on Saturday Night Live for one year, but his career started to gain steam when he served as James Spader's sidekick in Tuff Turf and became an honorary member of the Brat Pack, starring in several John Hughes movies.
Truth is Stranger than Fiction
"I would never tell you the worst things that have happened to me." –Robert Downey Jr - Tweet This
In 1987, Robert Downey Jr landed the role of Julian Wells in Less Than Zero. Downey's character spirals downhill due to his addiction, racking up debts, becoming cut off from family, eventually reduced to a homeless junkie who dies of heart failure.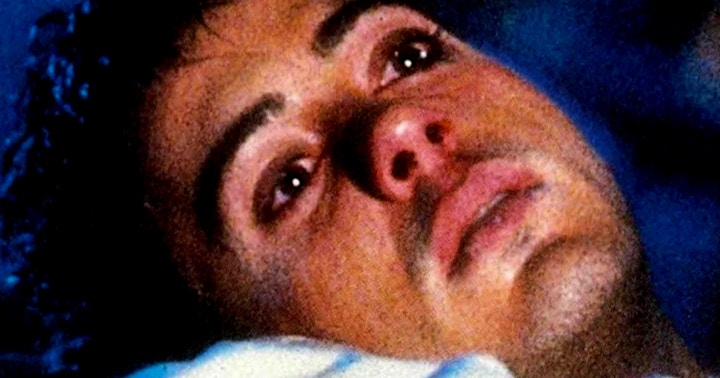 Several years later, Downey recalls,
"Until that movie, I took my drugs after work and on the weekends. Maybe I'd turn up hungover on the set, but no more so than the stuntman. That changed on Less Than Zero. I was playing this junkie and, for me, the role was like the ghost of Christmas future. The character was an exaggeration of myself. Then things changed and, in some ways, I became an exaggeration of the character."
Less Than Zero was the turning point, both in Downey's career and addiction. The film launched him into larger roles, eventually starring in Chaplin as Charlie Chaplin in 1992 where he was nominated for an Academy Award. However, his personal life also came into the public eye a bit more.
The Taste of Gunmetal
"It's like I have a shotgun in my mouth and I've got my finger on the trigger, and I like the taste of gunmetal." –Robert Downey Jr - Tweet This
Robert Downey Jr had no shortage of opposition from people who loved him, but not his drug habits. His first manager, who had previously lied when directors and producers asked if he was clean, begged him to go to rehab in 1987, and Downey eventually did. Upon his return, he fired his manager.
Despite this, Loree Rodkin (former manager), claimed it was worth it, saying "Every day I look in the newspaper and I think I am going to read Robert's obituary" in 1996. His father echoed the sentiment, telling People Magazine that, "I'm glad he's alive."
In 1993, Downey married Deborah Falconer and together they welcomed the birth of their son, Indio. Robert Downey Jr vowed to quit drugs and literally dug a hole to bury his metaphorical destructiveness, tossing in his costume from Less Than Zero, but by 1994, Downey had returned to liquor, cocaine and ecstasy – despite claiming he was clean.
In 1995, Robert Downey Jr tried heroin for the first time and although he recognized he was out of control, he couldn't stop it. He referred to himself as the "lovable tornado" bouncing from rehab to film set to another drug binge to home and back again. He didn't care about acting, and cited most of his performances as disappointments.
Fellow actor Sean Penn saw Robert Downey Jr wasting away and, at one point, Penn took away the young actor's keys, kicked his front door down, and drove him to rehab, saying "You have two reputations. I think you know what both of them are, and I think you'd do well to get rid of one of those reputations. If you don't, it will get rid of the other one." But it didn't stick. Downey broke out of the rehab facility a few days later.
1996 proved to be an especially difficult year. Downey's wife left with their child, Indio and Downey lost his house in Malibu. He started couch surfing at gradually more and more shady areas. At one of his apartments, Downey continued to lose the key and disrupting the landlord at four in the morning until he finally made him move out.
At one point, Robert Downey Jr was making $7 million a year, but his irrational spending and drug habits caught up with him. Importing silk scarves by the hundreds was a cost that couldn't be maintained.
Public Arrests & Probation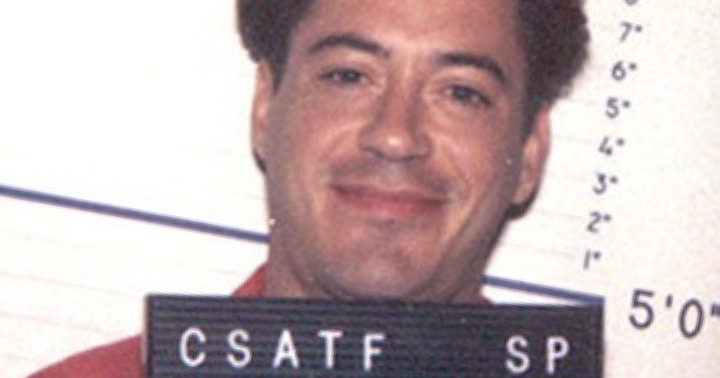 "Stopping isn't hard, but not starting again is." –Robert Downey Jr - Tweet This
Robert Downey Jr was pulled over for speeding in his Porsche, but the officers quickly discovered Downey was naked and hallucinating – allegedly throwing imaginary rats at the officers on the scene. On another occasion, Downey was discovered curled up in the fetal position behind a grungy LA hotel.
Downey's first arrest was on June 23, 1996, when he was pulled over for speeding (70 mph) in his black Ford Explorer along the Pacific Coast Highway in Malibu. During this arrest, the discovered small amounts of heroin (.42 grams), cocaine (1.49 grams with .32 in crack form, making it a possible felony) and an unloaded .357 magnum in the car as well – with four bullets in the glove box.
On July 16-17, 1996, Downey was arrested yet again for what has come to be known as the Goldilocks incident. While he was awaiting trial, he wandered into his neighbor's house in Malibu, stripped to his underwear, and curled up into the empty bed the neighbors' 11yo son. When he was discovered, the neighbor thought her son had fallen asleep early only to discover a man in the bed she did not recognize (at the time). She tried to awake him, but was unable to, and called the police – she did not file trespassing charges.
youtube:https://www.youtube.com/embed/iIQT_LlTRj0?start=68
Robert Downey Jr was resuscitated by medics at the USC Medical Center and the next day (July 18), Judge Lawrence Mira ordered a 24-hour drug rehabilitation program at the Exodus Recovery Center in Marina del Rey. Two days later, Downey escaped through a window in the bathroom and hitchhiked back to his home. He's recaptured four hours later and put in jail for nine days. Upon his release on July 29, Judge Mira orders another supervised drug rehabilitation program.
A month and a half later, on September 11, 1996, Robert Downey Jr pleads "no contest" to felony drug possession and misdemeanor charges of possessing a weapon and driving under the influence. On November 6, 1996 Judge Mira ordered six more months of live-in rehab, wherein he's obligated to submit drug tests frequently, attend meetings daily (5-6 a week) and undergo drug counseling onsite and outpatient sessions.
In October, 1997 one of Downey's drug counselors testifies that Downey skipped a drug test. In December 1997, the courts determine Downey has violated his probation and Judge Mira sends the actor to Los Angeles County Men's Central Jail where he spent 113 days between 1997 and 1998. He's quoted as saying, "I'm going to incarcerate you and I'm going to incarcerate you in a way that is very unpleasant to you… I am willing to send you to a state prison. I don't care who you are."
Jail Time
Sawyer: "What is the lie everyone should watch out for that you'll be telling if you're using again?" Downey: "I'm fine." - Tweet This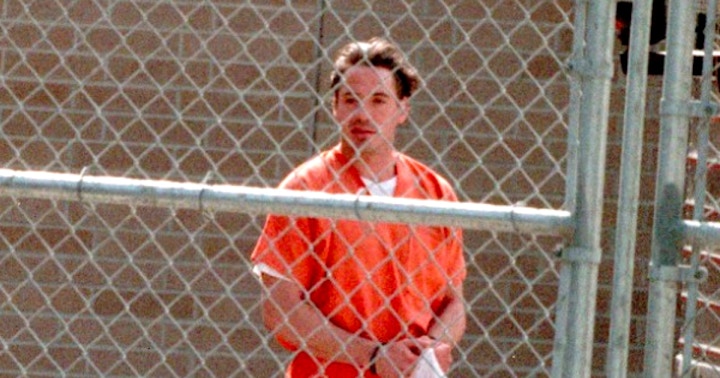 During Robert Downey Jr's first stint in jail resulted in numerous fights, where he reportedly woke up in a pool of his own blood twice. Downey was the target of many fights due to his celebrity status and being a particular "pretty boy" celebrity wasn't helping. The fights resulted in numerous abrasions and cuts. After two months, he receives a severe gash from an altercation with 3 other inmates and is moved to solitary confinement.
After 113 days, Robert Downey Jr was released and in 1998, checks into a court ordered 120-day rehab program where Robert Downey Jr remained on probation. In June 1999, Downey admitted to missing yet another drug test. The judge ruled that Downey needed to address "serious psychological issues" and ordered him to be taken to a strict 24-hour rehabilitation center.
In August of 1999, Robert Downey Jr made an appearance before the judge asking for clemency. His defense attorney was none other than Robert Shapiro (who famously defended OJ Simpson). Despite Downey's pleas and legal team, the judge saw no other solution but to give him three years at the California Substance Abuse Treatment Facility and state prison in Cocoran, California – though he credits 201 days due to Downey's previous time served.
Raising the Bar, Behind Bars
"It is my newfound experience that in order to get things done, I must be still. When that is afforded by an imposed restriction (illness, weather, incarceration, generally being grounded), I now believe it is God's way of giving you some true freedom to 'catch up' on what you need to accomplish . . . inwardly." -Robert Downey Jr (letter to his sister)
Robert Downey Jr struggled with being a father behind bars. His son, Indio, was familiar with Downey being away a lot filming movies, but he and his wife (separated) agreed that Downey should tell the truth. To hear his former wife say it,
"Robert wanted to tell him he was going off to Yugoslavia to learn how to be a spy. And I said, 'No, that's not right: tell him the truth.' So he did."
It wasn't easy. The first day in prison put him in shock. He had served over 100 days in a county jail before, but this was different. There were guard towers and a maximum security prison next door (with Charles Manson no less) and rumors that the guards would make the inmates fight or be shot.
Downey was full of shock and tried to stay to himself, but was moved into a group cell with four other guys where he was forced into interaction. He cites an eye-opening moment when he was brushing his teeth and he spit in the sink only to have a fellow inmate howl at him for spitting in a sink that he had no right to spit in, polluting their sink with his germs. He also had to avoid detection in the cafeteria as there was always someone trying to start "something" by giving him (a celebrity) more food.
The other inmates refer to him as Mo' Downey and five days a week he worked the cafeteria line for eight cents an hour, doling out food, washing dishes and scraping pizza pans clean in piping hot water. Cleaning was a big part of his time there, telling stories kitchen mishaps where a gigantic bag of gravy ripped open and he had to mop it up. At one time, Robert Downey Jr found himself wading in a pool of garbage, "33 gallons of garbage water… like 500 pounds of slop. It is at these moments – these points of acceptance – that you realize human beings can do fucking anything".
Despite interviews where he seemed to take everything in strides, the inmates reminded reporters of the situation, as his cellmate said,
"They can say Downey is protected, but like with everyone else, it's a false sense of security because you never know if the guy next to you is going to break your neck in the middle of the night when you're sleeping. That's something they can't prevent. There's always the danger element. What's the probability factor? That nothing's going to happen to him. However, fate is fate. So they're saying he's in prison for his own good, but, you know, any day could be his last. That's the way it is."
One. More. Day.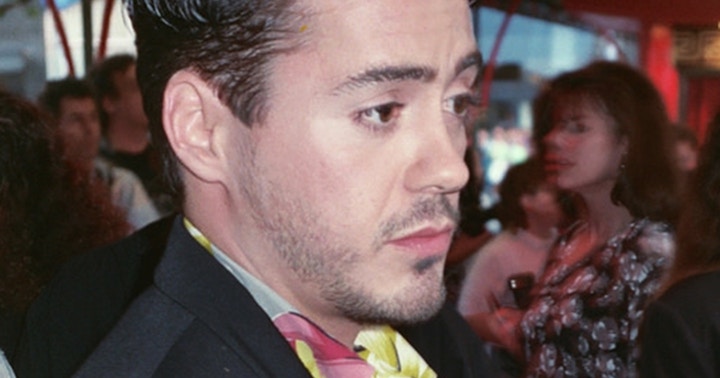 "I had to tell myself that I didn't have to enroll in the same program for the next 40 years, with the same things dragging me down - the resentments, the unadulterated anger, the motherfucking rage. I allowed myself to let go of that shit and it means that I'm no longer a miserable prick. That's not to say that I'm in the clear yet. I might be shifting out of it, but I'm still the same guy that did all that crap." –Robert Downey Jr
After almost a full year in prison, Robert Downey Jr was released in 2000 due to his collective time in incarceration facilities and he was immediately cast in a new television series Ally McBeal. Despite the rave reviews, his emmy nomination, and Golden Globe win, Robert Downey Jr went on to say it was the lowest point of his life. He didn't care one way or another about acting.
And in 2000, on Thanksgiving, Downey was arrested in his Palm Springs hotel, clearly under the influence of valium and cocaine. Despite a potential sentence of over four years, Downey signed on for another either episodes of Ally McBeal.
Adding insult to injury, in April 2001, Robert Downey Jr was discovered wandering around Culver City barefoot. Although they found cocaine in his system, Downey was released, though not without reprisal. The executives of Ally McBeal drafted last minute rewrites and dismissed Downey from the show which was nothing compared to his wife deciding to officially leave him.
In July of 2001, Downey pleaded no contest to the charges, narrowly avoiding jail time. The timing worked in Downey's favor as California Proposition 36 was passed. A prop that helped send nonviolent drug offenders to rehab instead of jail. As a result, Downey was sentenced to three years of probation and drug rehabilitation.
Sober Since July 2003
"For me, I just happened to be in a situation the very last time and I said, "You know what? I don't think I can continue doing this." And I reached out for help and I ran with it, you know? Because you can reach out for help in a half-assed way, and you'll get it, and you won't take advantage of it. You know? It's really not that difficult to overcome these seemingly ghastly problems. What's hard is to decide." –Robert Downey Jr
Robert Downey Jr has been sober since July 2003 thanks to the love of his wife, Susan Levin, and friends, particularly Mel Gibson. When Robert Downey Jr returned to the Hollywood scene, he was a veritable pariah. He was unhireable due to his insurance premium, which Downey couldn't afford to pay himself. He didn't have a home, his estranged wife had filed for divorce, and he had no financial safety net. Mel Gibson put a roof over his head, and food on the table, and cast Downey in a role he originally intended for himself in 2003, The Singing Detective -- Gibson paid the insurance premium himself.
After this, Downey's comeback was gradual and steady. He was cast in Gothika next, forfeiting 40% of his paycheck to cover the insurance premium; the rest going towards paying off his debts. But he continued to show up on time and put forth the same tremendous effort he was always known for. As a bonus, he met his future wife, Susan Levin, a film producer who was pivotal in Downey's sobriety, saying she wouldn't marry him unless he was done with drugs.
The story goes, Robert Downey Jr had a moment of clarity outside a Burger King, and threw what remained of his stash into the ocean. Since then, Downey has maintained his sobriety for over ten years, citing numerous elements that help him: his wife, meditation, and Wing Chun Kung Fu.
After Gothika, Downey continued with a handful of movies (large and small) and even a music album before landing the role of Iron Man in 2008; and the rest is history.
Not My Story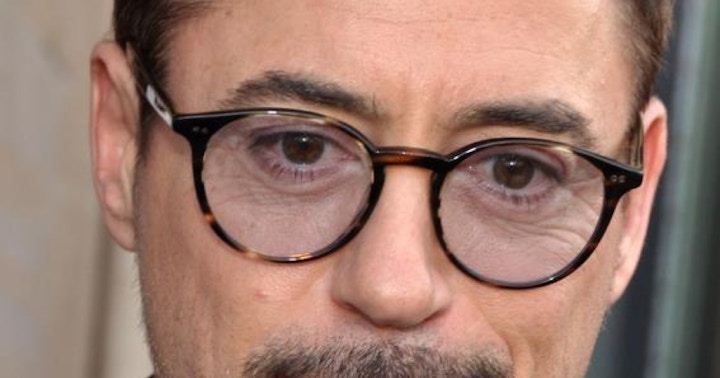 Robert Downey Jr's success is tremendous, but his sobriety is miraculous. Even now, it's not something he shies away from, but he's isn't beholden to it either. Downey has always been talented, he's always had work ethic, and drugs are a part of his life, but he doesn't let it define him. In a speech where he commemorated Mel Gibson – asking for his forgiveness as well – he stated that the you have to accept the dark part of you or what he refers to as "hugging the cactus."
With a past like Downey's it'd be easy to succumb to hate, mistrust, and fear, but he doesn't. He past exists, it's not an anomaly, its part of a whole. In the New York Times, they again addressed his father passing him his first joint, to which Downey responds,
"Can't we just get past that? There was a lot of other stuff, too. Texas beef and rice, my dad mixing iced tea with an upside-down hammer. We had a dog, a Yorkshire terrier named Sturgess, and it would be like dinner and a show: my dad would tell us what Sturgess was thinking, and we would all just fall out laughing."
youtube:https://www.youtube.com/embed/1ecF4chNzzU?start=192
"I believe the most difficult situations will resolve themselves if you are persistent and you don't give up entirely. And that's what I never did. I never gave up." –Robert Downey Jr - Tweet This
On his addictions, he blames no one but himself and even then it's part of a greater whole – especially now.
"And I've had all the stuff before. The big spread and the cars and the dough and all that. It is nice to have. But it's nicer to be free from the attachment to identifying with it."
Robert Downey Jr is free to be himself and experience life first hand. He's hit rock bottom, but its nothing other addicts haven't struggled through, the main difference was he was in the spotlight.
Today Robert Downey Jr does not need identify himself by his past. He is not his story.
How to build new habits
I Am Sober is an app that helps you get some control back in your life.