I Am Sober is a free app that helps you get some control back in your life.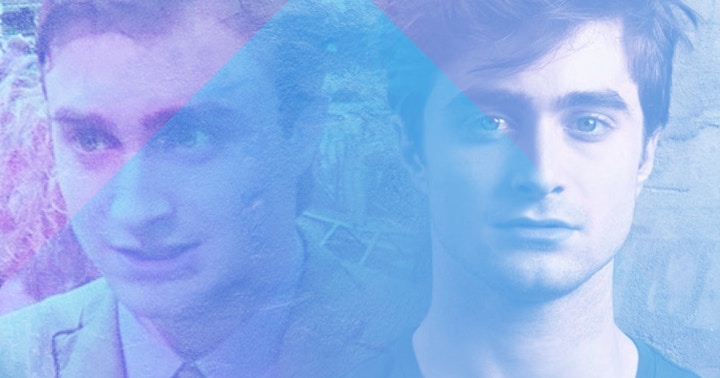 How Danielle Radcliffe Handles Sobriety
Last updated: December 10, 2021
"I change when I'm drunk. I'm one of those people who changes…There is something in any person who drinks in a way that's clearly not good for them, something that is attracted to that chaos."
If you had to guess the author of this quote, you would probably say "an alcoholic." Harry Potter might likely be the last person you would guess. However, this quote is in fact by British actor Daniel Radcliffe, who played boy wizard Harry Potter in the iconic film series.
Since 2001, Daniel Radcliffe has been a household name. We watched him grow from a scrawny 12-year-old boy to a handsome 22-year-old man in the Harry Potter films. It's no secret that celebrities oftentimes struggle with substance issues. We have all been witness to the long list of A-list actors and musicians that have struggled with some form of substance issue, from Robert Downey, Jr. to Amy Winehouse. However, most fans were shocked to learn that fresh-faced Radcliffe was also in this category.
youtube:https://www.youtube.com/embed/muhXfYXKcSM
Daniel's early life
Daniel Radcliffe was born on July 23, 1989. From the time he could speak, Daniel Radcliffe was destined to become an actor. Both his mother Marcia and his father Alan were child actors themselves who continued working in the entertainment industry as adults. His mother became a casting agent and his father a literary agent who focused on helping actors get book deals. However, despite their involvement in the industry, they were both against young Radcliffe becoming an actor. To their dismay, he expressed to them at the young age of 5 that his dream was to be on the big screen. Radcliffe's parents allowed him to act in school plays, but discouraged him from taking on any professional roles. However, young Daniel's passion for acting eventually won them over.
Radcliffe's first foray into the professional acting world was at the age of 10 when he was cast as a young David Copperfield in BBC One's film adaptation of the popular Charles Dickens novel by the same name. Shortly after, he was cast in the Pierce Brosnan and Jamie Lee Curtis spy thriller The Tailor of Panama. However, before the film was even released, he was approached by movie producer David Heyman. Heyman was convinced that Radcliffe would make the perfect Harry Potter and insisted that he audition. His parents were wary, but decided to allow the audition to take place. What was meant to be a single audition turned into eight months of auditions and Radcliffe was eventually offered the role of Harry Potter.
Unfortunately, when his parents learned that the film would be a six-part series and require Radcliffe to relocate to Los Angeles for filming, they put their foot down. They didn't want their son's childhood to be taken from him. Little did they know just how successful the Harry Potter franchise would be. Warner Bros. negotiated with the Radcliffes and eventually got them to sign a two-movie contract that included filming in the United Kingdom. However, as we all know, this contract was eventually extended, allowing Daniel Radcliffe to portray protagonist Harry Potter throughout the film's entire eight-part series.
Growing up in the spotlight
Upon the release of the first Harry Potter installment in 2001, Harry Potter and the Sorcerer's Stone, Radcliffe shot to fame overnight. Both fans of the Harry Potter novels and movie critics around the world praised Radcliffe for his portrayal of orphaned wizard Harry Potter. The movie grossed nearly $1 billion worldwide. Just a year later, Harry Potter and the Chamber of Secrets was released. It was just as financially successful as The Sorcerer's Stone and received an equal amount of praise. The remaining Harry Potter movies were released between 2004 and 2011; Harry Potter and the Prisoner of Azkaban (2004), Harry Potter and the Goblet of Fire (2005), Harry Potter and the Order of the Phoenix (2007), Harry Potter and the Half-Blood Prince (2009), Harry Potter and the Deathly Hallows Part 1 (2010), and Harry Potter and the Deathly Hallows Part 2 (2011).
It's no secret that Radcliffe enjoyed not only playing the role of Harry Potter, but also spending time with his co-stars Rupert Grint and Emma Watson. In countless interviews, he has gushed about the love he has for his character and the entire team behind the Harry Potter franchise:
"I sort of try to read the books when they come out impartially and not make up my mind, but the fact is when I was reading the sixth, 'Harry Potter And The Half-Blood Prince', there were bits in there where I was going, 'God, I would love to do that because it's so good'."

"I think Harry Potter's very important. Every opportunity I will get for the rest of my life, I would not have got if it wasn't for Harry Potter. And it would be height of ingratitude if I was ever anything but proud to be associated with these films."
However, while Radcliffe has been very outspoken about his appreciation for the Harry Potter movies, he has been just as adamant that it's a chapter he likes to keep closed. In fact, author of the series JK Rowling even had to promise Radcliffe that she wouldn't write any more Harry Potter books to ensure that Harry Potter and the Deathly Hallows Part 2 would be the end of the movie franchise.
Radcliffe has frequently said over the years that being Harry Potter was an amazing experience, but that he'd like to explore more opportunities. While he enjoys being associated with the series, he hopes to eventually be known as "Daniel Radcliffe the actor" rather than "Daniel Radcliffe, the guy that played Harry Potter." After filming for the final installment of the Harry Potter franchise finished, Radcliffe took on several diverse roles in both films and on Broadway. However, before he was able to move on from the iconic Harry Potter series, he had to confront some demons.
Realizing that he had a problem
youtube:https://www.youtube.com/embed/FfCsVPJsw-E
While he spent his entire teenage-hood and young adult years in the limelight, Radcliffe managed to avoid any crazy scandals. While other teen celebrities like Lindsay Lohan and Paris Hilton were notorious for their substance-fueled shenanigans, Radcliffe was the opposite. Paparazzi never caught him drinking underage and he always maintained a "nice guy" image. In fact, to this day the only news articles you will find about a drunken Daniel were on his birthdays.
Paparazzi spotted Radcliffe stumbling home drunk with his parents the night of his 18th birthday party. While some jokes were made about the actor partying with his parents, other comments were made about the state of his drunkenness. With that being said, it was only his 18th birthday, so few were legitimately concerned about his drinking. Radcliffe made headlines again when pictures of his 21st birthday celebration in St Petersburg, Russia surfaced. While Radcliffe was undoubtedly smashed, he appeared to be having a good time.
Journalists and Paparazzi have caught Radcliffe drunk or partying a handful of times, but his antics caused no warning signs. In fact, no one that knows Radcliffe personally ever spoke out about him having a drinking problem. However, much more was going on behind the scenes than most knew.
Daniel Radcliffe reportedly stopped drinking for the first time in 2010 after finishing filming for the last Harry Potter movie. As it turns out, Radcliffe was either hungover or still drunk from the night before in several scenes in the last few Harry Potter movies. As Radcliffe says himself, "I can point to many scenes where I'm just gone. Dead behind the eyes." He claims that while he never drank on the set, his drinking definitely affected his acting. If you're wondering why so few people knew about his alcohol abuse, he rightfully says, "People with problems like that are very adept at hiding it."
youtube:https://www.youtube.com/embed/X24XFdS1-yM
You may be asking yourself why someone as rich, successful, and entertaining as Daniel Radcliffe began abusing alcohol. He points to growing up in the spotlight as the main reason:
"In my case, the quickest way of forgetting about the fact that you were being watched was to get very drunk .Then as you get very drunk, you become aware that, 'Oh, people are watching more now because now I'm getting very drunk, so I should probably drink more to ignore that more.'"
One thing is for sure: Daniel Radcliffe has a way with words. His experience is the same experience that many teen stars go through. The difference? He recognized the problem early and pulled himself out. In interviews, Radcliffe has credited his close friends and family members for noticing his alcohol abuse. He has told interviewers that he used to blackout when drinking and couldn't remember what had happened. He would fall asleep and wake up in the morning with a slew of texts from friends asking if he was okay and he couldn't remember anything about his night. However, something that he reportedly resented the most was his inability to look after himself when he drank too much- which he seemed to do every time he drank. He has said that he became the person that "needed to be looked after," which became a burden to his friends.
Radcliffe originally became sober at the age of 22 in 2010. He has not said much about how he got sober, but his sobriety was never something that he kept a secret. However, his first attempt at sobriety lasted a brief two years. In 2012, he was reportedly kicked out of a NYC bar for excessive drinking and fighting. In 2013, he gave sobriety another chance and has been sober ever since.
In an interview in February of this year, Radcliffe admitted that, "It took a few years and it took a couple of attempts," but that he is now sober and ever-grateful.
Life in sobriety
Radcliffe is not shy to talk about his life in sobriety. In fact, many interviewers over the years have asked him about his drinking, as it's hard to believe that sweet, young Harry Potter could develop a drinking problem. The truth about alcoholism, which we have talked about frequently on this website, is that it doesn't discriminate. You could have had a wonderful childhood, never wanted for money in your adult life, and been surrounded by wonderful people. Alcoholism is a disease. It doesn't care about your race, gender, or status.
Many people wonder how Daniel Radcliffe "beat" his drinking problem. The truth is that any recovering alcoholic is just one drink away from returning to an active alcoholic. Radcliffe is acutely aware of this fact. He once said:
"As much as I would love to be a person that goes to parties and has a couple of drinks and has a nice time - that doesn't work for me. I do that very unsuccessfully. I'd just rather sit at home and read, or go out to dinner with someone, or talk to someone I love, or talk to somebody that makes me laugh."
youtube:https://www.youtube.com/embed/OeSg9d8FvP8
In other interviews, Radcliffe has said that getting sober has made him more comfortable with himself. While he has admitted to using alcohol to cope with fame, he also drank because he thought it was supposed to make him happy. Towards the end of his drinking, he realized that he was still miserable, even after nights out. In order to stay sober, he goes to the gym, goes shopping, and even reads books. In fact, falling in love with reading again was one of the gifts of sobriety that Radcliffe received:
"I was a really voracious reader in my teens and that was one of the things I found drinking took away from me, bizarrely, as a side effect," said Radcliffe. "I didn't have the compulsion or energy to read anything. So I've got that back."
Since getting sober the second time in 2013, Radcliffe has starred in dozens of films, television series, and plays- all of which he has been outspokenly passionate about. Some of these include Victor Frankenstein (2015), The Gamechangers (2015), and The Cripple of Inishmaan (2013). It's clear in Radcliffe's attitude, outlook on life, and on-screen performances that sobriety has truly changed his life for the better. In his own words, getting sober has given him the opportunity to live a life "without dread and fear and it is lovely."
How to build new habits
I Am Sober is an app that helps you get some control back in your life.